For more than a decade now, Furmint has defined the month of Furmint in Hungary and, in a sense, the discourse on Hungarian wine. Why does everyone talk about this grape variety in February?
Perhaps the most important thing to know is that Furmint does not equal Tokaj, although it is clearly the key variety in the Tokaj wine region. This is worth pointing out because if you only taste Tokaji Furmints, you are not giving other wine regions a chance, even though in Hungary, the variety is also exciting in Eger, Sopron, Zala, Badacsony and Somló. Moreover, in Csopak, it was traditionally used to preserve the freshness in Olaszrizling, or rather the old Csopaki Olaszrizling's flavour was indeed provided by Olaszrizling, but its acidity was furnished by Furmint. As a bonus, it also produces naturally sweet wines, because Furmint is well-suited to this too. Perhaps you've never even considered the fact that your favourite Tokaji Aszú could also be made of 100% Furmint.
So, we have a grape variety that is a good blending grape, that can stand on its own as a dry wine and that can demonstrate a light, yet not harsh, character. This seems to be best understood and demonstrated by winemakers in Slovenia, but there are also examples of it around Neusiedlersee in Austria and Sopron (Hungary) and in Croatia. However, there are also versions that are made in a more New World style, with long lees ageing and maturation in new oak, either from Eger or Somló, but even more likely from Tokaj. It would be a sin to open these before they are two or three years old. Although, based on experience, they can age for up to 15 to 20 years under suitable conditions! And if this were not enough, it is a real sugar pump, so it is also well-suited for producing the previously mentioned botrytised sweet wines. Moreover, increasing numbers of people are making bottled-fermented sparkling wine from it too.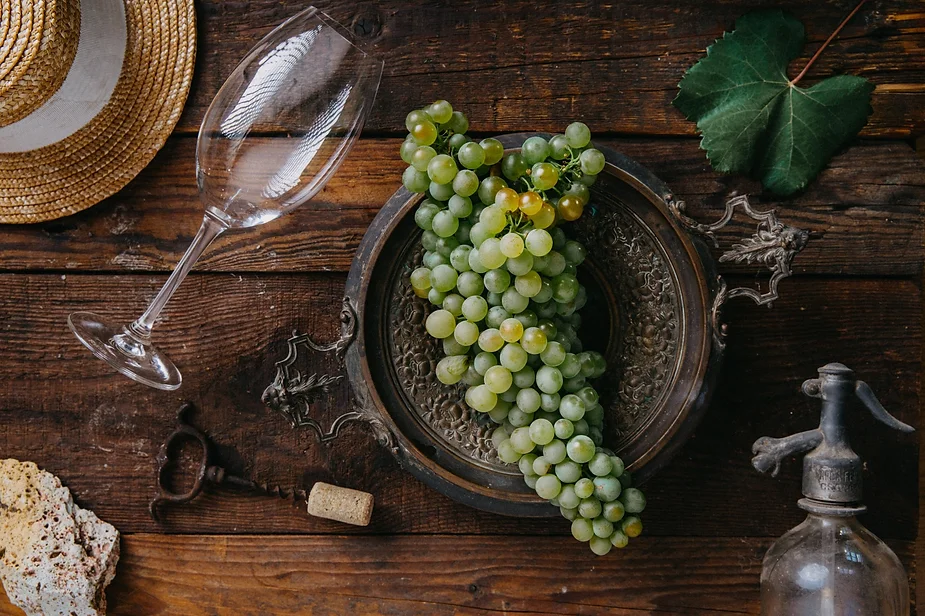 What is such a great wildcard variety good for then? Are we not making the mistake that something that is good for everything will ultimately be suitable for nothing? Well, the hype around Furmint seems to have come to a standstill, and that's good when considering the variety. The idea of pure Furmint sparkling base wine has now been replaced (especially in Somló) by the Furmint-Chardonnay duo, the superfluous tannins have commendably been removed from over-oaked Furmint and a little Hárslevelű has been added to the fresher Furmints in Tokaj in the interests of drinkability. However if you are curious about the 100% taste of a Furmint MT look for Carpinus Winery's Brut. All this means that winemakers are increasingly using the grape variety for what it is perhaps best for, i.e. as a team player.
If you really want to get to know Furmint, you should be prepared for the fact that this neutral grape variety demonstrates its greatest virtue in showcasing its terroir. So, you can actually discover the wine regions and the vineyards within them through Furmint. With glass in hand, you can tour the landscapes of Central and Eastern Europe in your imagination. You can explore the crystalline shales next to Lake Fertő and the sailing boats behind the reeds in the distance, say courtesy of the Steigler winery's Furmint. You can discover the cool elegance of a dry Tokaj Furmint through, for example, a single vineyard Furmint from the Barta winery, or discover what it's like with lengthy ageing in oak, like in centuries past, with some wines from the Tokaj-Hétszőlő organic winery cultivating wines on the Tokaj Hill itself. Imagine climbing up to the highest vineyard in the country, the Nagy-Eged Hill near Eger and harvesting Furmint, as Nimród Kovács does or as the Ostoros Furmints are made. Let your wine be born like this, from grapes harvested at full ripeness or slightly overripe, as they were most prized centuries ago, like in Somló. Or find the basaltic bedrock in your glass, like the St. Donát does in Csopak, or the Éliás and the Laposa families do on the slopes of Badacsony and further north of the region on Somló Hill the Tornai Estate. Furmint is none other than a window on the world and its many eddies as well as the diversity of our terroir. Let's travel together in February with a glass of Furmint in hand!