It's Central and Eastern Europe's wildcard!
Let's see what you need to know so far:
The grape variety which the Croatians (and gradually the whole world too, mainly thanks to Jancis Robinson) call Graševina has come a long way since what Wine Spectator journalist Matt Kramer said in a 2011 interview with a Hungarian blogger:
"I still can't understand why, apart from the economic logic of low prices and high yields, why anyone would be interested in a variety such as Olaszrizling. I understand, of course, the historical reasons for it being so widespread. But it's a loser variety."
A little over ten years later, we have reached the point, perhaps out of defiance, perhaps simply due to greater attention, where the grape variety is once again being seen as it was a hundred years ago: a wildcard that can be turned into anything!
Let's take a closer look into the best expressions of the variety!
Croatian Graševina, albeit still dry, typically contains a little residual sugar to round out the finish, while Hungarian Olaszrizling is often fermented to dryness with just a hint of bitterness on the finish. Graševina is only grown in continental Croatia and not on the coast, and the most important of these regions are next to the Danube, around Ilok and Croatian Baranja. On the other hand, the variety can be found almost everywhere in Hungary, but it is most at home in Eger, the Hungarian Baranya and around Lake Balaton.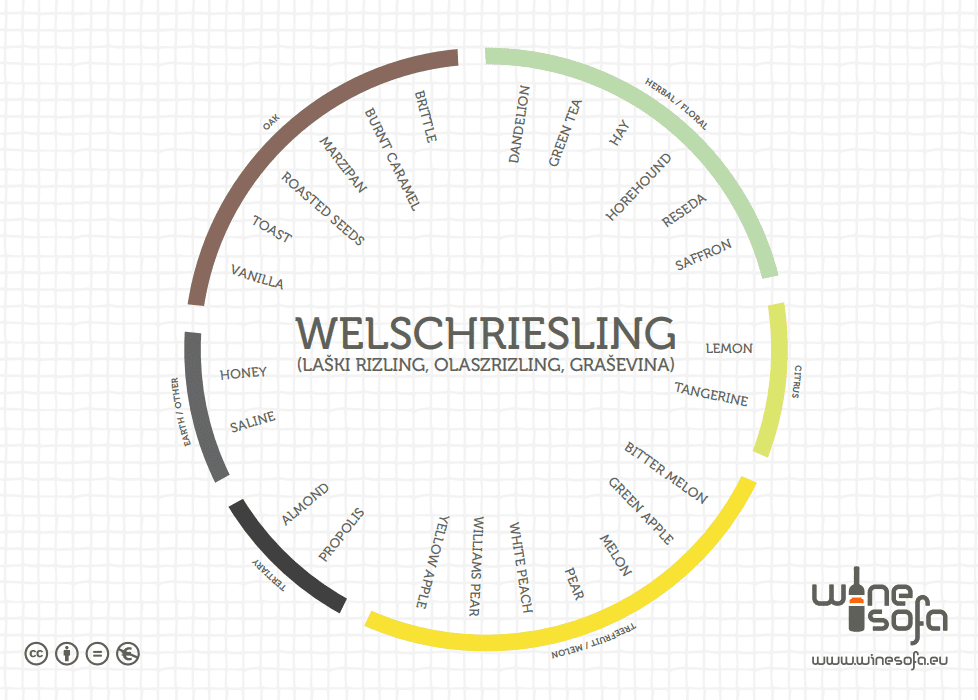 It is also a good transmitter of terroir, with wines grown on volcanic soils often captivating with their flinty, mineral character, the best example perhaps being the Laposa family's Olaszrizling from Badacsony or the Pálffy family's wine from the nearby Kál Basin. Both wineries also have entry-level Olaszrizling, lighter versions of the variety, but their ranges include full-bodied, harmonious wines that can often age for decades, such as the Laposa 4hegy, Laposa Apukám világa or Pálffy Fekete-hegy. These wines are produced on former basalt volcanoes in a sub-Mediterranean microclimate, so you need to give them enough time to come into their own!
It is such an important variety for the Croatian wine industry that one in four bottles sold in the country is Graševina. And when it comes to producers, one of the doyens of the Croatian wine scene is clearly Vlado Krauthaker, who makes his basic, premium and single vineyard Graševinas in Kutjevo, the capital of Graševina. The latter wines are worth investing in, and of the wines tasted this year, his 2004 Mitrovac single vineyard wine really shone!
The Croatian and Hungarian Baranja/Baranya were once one region, so it's no coincidence that the main variety here was Olaszrizling/ Graševina. This is now only the case on the Croatian side, perhaps due to the proximity of the Danube. On the Hungarian side, the Villány wine region has dedicated itself to red wines for the last fifty years, just consider the local Cabernet Franc! However, the winemakers of Villány have not forgotten their roots either, with several wineries producing light Olaszrizling wines. One good example is Tamás Lelovits' Olaszrizling, which is a great lead-in to his full-bodied red wines.
Olaszrizling competitions have been organised in the Eger region for decades. The vineyards in the area are planted on volcanic rhyolite tuff, which gives the Eger wines, including the Juhász family's Olaszrizling, their unique character.
Lake Balaton, the largest shallow lake in Hungary and Central Europe, is all about Olaszrizling, but Balatonfüred and Csopak stand out from the other regions around the lake. The local producers also developed an independent origin protection scheme for Olaszrizling, which was eventually adopted by most producers around the lake, so the entry-level wine everywhere is called BalatonBor, while the next level up is so-called HegyBor, i.e. 'Hill Wine', or wine from individual hills. The reason for this is that the former basalt volcanoes (e.g. Badacsony, where the Laposa family make wine) yield wines with such strong characteristics that no individual vineyards have been established. The single vineyard wines form the top category; the Dobosi Estate makes wines from several of them, all from Olaszrizling, of course.
It would be unfair not to mention the neighbouring countries. Statistically speaking, Romania has a lot of Olaszrizling, but it is typically used as a basis for white blends and not sold as a single varietal wine. The variety is, however, enjoying a renaissance in Serbia under the name Grasac Beli, and it is no coincidence that GROW, the first international wine competition for the grape variety, will be held in Novi Sad this year as part of a joint Hungarian-Serbian-Croatian initiative!
In Slovenia, it's mainly grown in the former Styrian areas, like in Austria, and produces firm, fresh wines in this cool climate. In the Czech Republic there are once again regions where Ryzlink Vlassky, as it is known here, is being given special attention, for example around Mikulov, while there is also a protection of origin system based on it, known as Dunajovske Köpce. As for the area around Lake Fertő / Neusiedlersee, sweet Olaszrizling/Welschriesling wines have been made here for centuries. These include the famous sweet wines from Rust, Ruster Ausbruch, originally a blend of Olaszrizling and Furmint, although nowadays rather Olaszrizling with other local varieties.
Generally, producers love of it thanks to its beneficial cultivation characteristics, and consumers love it because everyone can find something to like about Olaszrizling.