Do you like light red wine, chilled on ice? Are you looking for something special? Do you want to impress your friends with your wine expertise? If the answer to any of these questions is yes, then the title of this applies to you: let's drink Kadarka!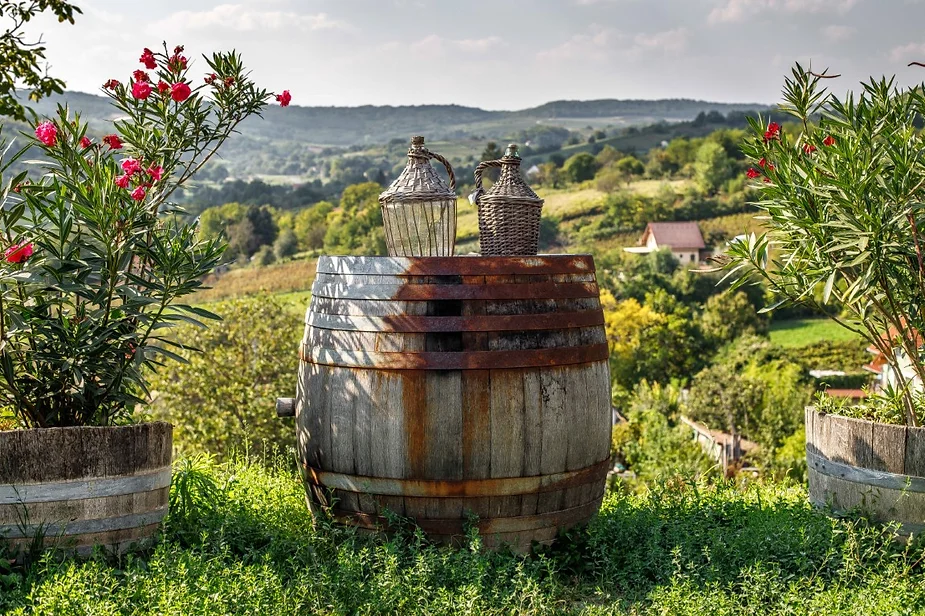 Let's quickly clarify something, in case it's not clear – Kadarka is a black grape variety, meaning it can be used to make red wine and possibly rosé. I'll call it by its Hungarian name for simplicity's sake, but it can also be found in Romania (Cadarca), Serbia (Kadarka) and Bulgaria (Gamza). Kadarka typically has moderate levels of alcohol, and besides fruit, it generally has intense peppery spice and sometimes a marjoram note too.
A Hungaricum not just from Hungary
According to the Hungarians, but this is probably a common belief throughout Eastern Europe, Kadarka is a wine well suited to playing cards and chatting with friends. By this they mean that you will finish a bottle or two without even noticing. But if it's as cool as I say it is, why hasn't it spread around the world? The reason for this is simple – it's a real pain to work with. Kadarka is susceptible to rot, and winemakers say that in any ten years, you can be happy if you get three years of excellent quality, three years of acceptable quality and the remaining four years are best left unmentioned. Modern wineries can no longer afford such swings of fortune, so Kadarka has been relegated to the side-lines. I like to think of it as the perfect substitute, just like Ole Gunnar Solskjaer, who came off the bench in the Champions League final in 1999 and decided the game in the 93rd minute. Sometimes a substitute can be a star, can't they?
By the way, Kadarka is not a Hungarian variety, although it is still considered a Hungaricum, at least by the Hungarians. Is that a bad thing? Not really, because in other Eastern European countries, it hasn't developed the cult-like status it has in Hungary. There was a time, long gone of course, when 60% of the country's black grapes were Kadarka! Nowadays, it only comprises 275 hectares out of a total of 62,000. Yet this area is still important, because one of the better-known Hungarian wines, Bikavér (whether from Eger or Szekszárd), usually includes some Kadarka to spice up the blend. But if it is not Hungarian, where does it come from? In short? We don't know. At greater length, perhaps from Albania, near Lake Shkodër, but since there is no longer a single Kadarka vine to be found there, this is rather the etymologists' explanation. The other theory is that it is a Thracian variety, and this seems to be supported by genetic research that it is related to Prokupac (the Serbs' flagship black grape) and Papaskarasi, a Turkish variety. From there, it's just a mental leap to Orpheus, the legendary pop star of Greek mythology who, after failing to save Eurydice from death, founded a sect in his grief and proclaimed abstinence. Dionysus was also a Thracian, so perhaps that explains why the Thracians were considered legendarily drunk, so that in the end, the enraged Thracian women tore Orpheus apart with their bare hands. I'd like to think that they had been drinking Kadarka beforehand…
What is for sure is that the variety is still cultivated today in Bulgaria, especially along the Danube, and you can drink wonderful Gamza there, albeit with slightly more heavy-handed and rustic oak use than in Hungary, to which the Serbs fleeing from the Turks brought Kadarka back in the 1600s. Of course, this did not happen overnight, and more importantly, they brought with them the technique of open vat fermentation and long maceration on skins, then unknown in Hungary, a typically white wine country at the time. As the Serbs migrated, so did Kadarka, spreading everywhere, especially along the rivers. In Syrmia, on the banks of the Mures in Banat and Miniş, on the banks of the Tisa in Backa, on the banks of the Danube in the Croatian Baranja, in Mohács and Villány, in Szekszárd and Baja, on Csepel Island and Szentendre, and finally in Eger too.
But where can you get good Kadarka? First and foremost from the Szekszárd wine region in Hungary (a joke that's been told a thousand times, but it really is as if you are saying 'sex hard'), where almost everyone works with the variety. Péter Vida's Bonsai Kadarka has been receiving 94-95 points in Decanter blind tastings for years or Sebestyén's 93 points Iván-völgyi Bikavér, so we're definitely not missing the mark here! On the other hand, there are the Kadarkas made by Géza Balla in Romania. Thanks to the Miniş wine region's terroir, these wines are always denser, fuller and deeper in colour, so make your selection with this in mind. And if you were to choose a Kadarka from Eger as well, you should bear in mind that this wine region is further north, and its bedrock is not loess but volcanic rhyolite tuff, so the wines from here are real cool climate wines, fresh and elegant, and the Kadarka is dominated by red berry fruit.